#Heroes4Maggie is a campaign to raise funds to support the needs of an amazing little girl named Maggie, who was diagnosed with Spinal Muscular Atrophy (SMA) at the very young age of 2 years old.
#Heroes4Maggie – SMA is a disease that robs children of physical strength by affecting the motor nerve cells in the spinal cord, taking away the ability to walk, eat, or breathe. This is a short version of Maggie's story – to read all about her little life, you can start here.
Who is Maggie?
Born on February 25th 2013, Maggie is the daughter of Northwest Arkansas residents Jason and Kelly Alexander. Concerns for Maggie's health began before she ever left the hospital and after an upper gastrointestinal series (UGI), she was rushed to Arkansas Childrens in Little Rock. Diagnosed with Intestinal Malrotation and lacking the natural connective tissues to hold her organs in place, at nine days old Maggie would have surgery to reroute her intestines and remove her appendix. Maggie would develop a MRSA infection and as parents, Jason and Kelly would pack her incision for 2 months until it healed.
Called a late-bloomer, not sitting up by 10 months and only army crawling, it wasn't until after Maggie entered daycare that further developmental problems would become glaringly evident. At 14 months Maggie would begin physical therapy for what was initially diagnosed as low muscle tone. Maggie would only regress. She was no longer crawling, developed swallowing and breathing problems and was referred to a specialist.
On July 24th, 2014 Maggie was diagnosed with SMA Type II. She would never walk.
Today, because Maggie is only almost three years old, her story is short. But, it's just the first chapter of a much longer one. Maggie's story will include a lifetime of friends with names like Pulmonologist, Neurologist, Orthopedist, Gastroenterologist, Nutritionist, and Physical and Occupational Therapist.
While Maggie's life story will include daily physical challenges and therapies, SMA does not affect a child's ability to think, learn and build relationships with others. In fact, children like Maggie tend to be unusually alert, interactive and gifted.
The Goal
Most of us are aware of the physical limitations that come with the inability to walk and being dependent on a wheel chair. Now imagine you're a toddler, with all the yearn to explore, touch, feel and discover your surroundings and the challenge Maggie and her family will face to nurture what would be non-obstacles for most children her age.
That is where #Heroes4Maggie will make a difference. The goal being to maximize Maggie's quality of life by providing quality transportation for her that is accomidating to her limited mobility. A life that, while faced with physical challenges, should not be limited in its activity or hope.
It takes on average $240,000 to raise a child from birth to 18 (according to the U.S. Department of Agriculture). For a special needs child like Maggie that amount QUADRUPALS. Your donation will be used to support the immediate cost Maggie's family faces in providing her with the life that any child deserves, specifically the special transportation needs required with a child fighting SMA. Be a hero for Maggie.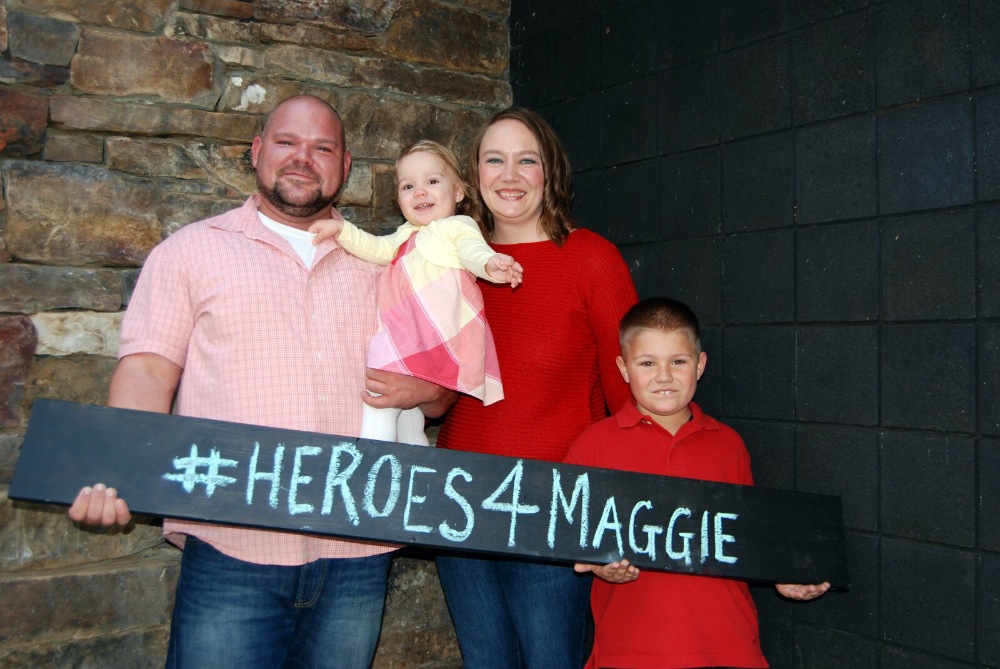 For information on SMA you can visit curesma.org